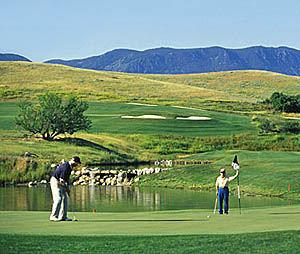 Lessons & Programs
We are here to help you achieve your golf goals! Are you new to the game or do you just need a tune up? We have many options to suit your needs and busy schedule. We offer club fitting and video instruction using V1 software technology.
Throughout the regular golf season, we will have Junior, Ladies and Short Game clinics scheduled and would be happy to arrange a customized clinic for you and your group of three or more golfers. Please inquire at the golf pro shop or call us at 307-672-5323 to arrange your game improvement session.

- Todd Bleidner, PGA Golf Pro and West Hilzer, PGA Pro
Lesson Options:
Private Lesson - $50 per half hour for Todd
Private Junior Lesson - $25 per half hour with Todd
3 hours - $250; 5 hours - $400 with Todd. 3 hours - $200;
Coaching Program - $1,200 Season (Space Limited)
Playing Lessons - $300 for 18 holes; $150.00 for 9 holes
Check back in Spring 2017 for information about our Junior, Ladies and Short Game Clinics.