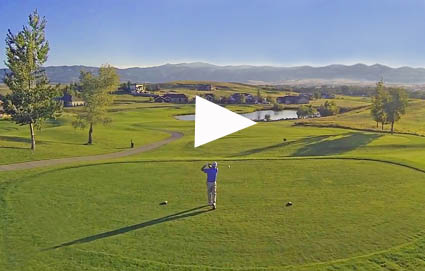 In a glorious valley facing the Big Horn Mountains, The Powder Horn in Sheridan, Wyoming is a vibrantly social golf club community in the heart of the Rocky Mountains. With a 27-hole golf course, swimming pool, tennis courts, walking trails and handsome clubhouse, it's an ideal place to move right into a luxurious home, or bring your own vision to life. The Powder Horn Golf Club is proudly managed by Troon Privé, the world's leader in private club management.
Combining the advantages of small town living with beautiful views, fresh air, low taxes and the #1 golf course in the state, The Powder Horn Golf Community and Wyoming are consistently named as among of the best places in America to retire. The sun shines on this golf and recreational oasis where the generally mild weather at 3,800 feet offers year-round outdoor adventure. Nestled at the base of the majestic Big Horn Mountains near Sheridan, Wyoming, this unique community provides an exceptional brand of western living – a casual gathering place for family and friends.
Click here to learn more about our Play and Stay package for two!
Read about us in Where To Retire Magazine. The Powder Horn has been featured on the publication's "Best Master Planned Communities" lists for numerous years.
Wyoming ranked as best place to start a business. Read about it here.
Wyoming is named one of the Top 5 happiest states in the U.S. by the Gallup-Healthways Well Being Index. Reasons include strong communities, low crime, and a strong jobs market.
Wyoming ranks 7th in the nation for per capita income according to The Bureau of Economic Analysis - just another great reason to love the Cowboy State!

BREAKING NEWS:: Powder Horn Club transitions to Private Club - View Membership Brochure
BREAKING NEWS: Troon Privé chosen to manage The Powder Horn Golf Club
BREAKING NEWS: Denver Air Connection offers daily air service between Denver and Sheridan