Letter From the Founder
A Letter From The Powder Horn's Founder, Homer Scott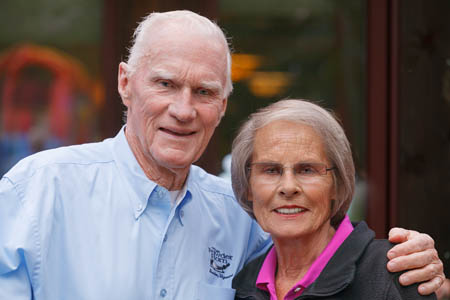 Homer and Janet Scott
Dear Friends and Guests,
As Californians continue to stream across the border into states such as Arizona, Nevada and Texas, I wonder if there aren't a few of the more adventuresome who ought to give Sheridan, Wyoming a hard look. Sure, I'm biased toward my "Home on the Range," but then my wife and I also have a winter home in Palm Springs so there is some basis for comparison.
Let's look at the advantages of being a resident of, say, The Powder Horn Residential Golf Community six miles south of Sheridan. Our family has developed The Powder Horn on 930 scenic acres at the foot of the majestic Big Horn Mountains. Located on this acreage are 27 holes of championship golf attended by a 30,000-square-foot mountain lodge-like clubhouse. Surrounding the clubhouse, we have a sparkling pool, tennis courts and fitness center amenities. Traversing the property are three miles of Little Goose Creek with its headwaters high up in the Big Horns. The Little Goose provides excellent fly fishing, home sites and numerous water features for Wyoming's #1 rated golf course.
Living at The Powder Horn offers all of the accoutrements of living in town: paved roads, city water, central sewer, cable television, phone and internet service. As an added bonus, the water for watering lawns and gardens is tied into the golf course irrigation system at a cost substantially lower than treated water. Add the privacy and grandeur of living in the country, yet just ten minutes away from Sheridan—a community of some 15,000 people, selected as the country's #1 Western Town as well as a top All-American City.
Sheridan has the Old West flair, but with a cultural and historical bent that makes it unique given its off-the-beaten-path location. Sheridan's Main Street is basically one continuous historical building after another. Custer's Battle of the Little Big Horn is 65 miles north in Montana, and the infamous Wagon Box Fight is some 20 miles south. Fort Phil Kearny, a cavalry outpost on the Bozeman Trail, has been largely restored and is a thirty-minute drive from the city limits.
A number of topical museums and western art galleries are based in and around Sheridan as well. The Bradford Brinton Museum near Big Horn—the horse capital of Wyoming—is soon to undergo a $20 million restoration that will better showcase its original Russell, Gollings and other extraordinary art pieces. Back in town is the famous King's Ropes and Saddlery Museum of early-day ranch life with tack, saddles and horse-drawn conveyances.
In modern parlance, the town of Sheridan is home to a fast-emerging and energized Sheridan College, a highly-ranked school system with state-of-the-art facilities, a world-class YMCA, a well-endowed public library and medical facilities like Sheridan Memorial Hospital that would be the envy of much larger communities. It's basically an unassuming mixture of pleasant folks enjoying the good life in boots and jeans, or Birkenstocks and jeans, depending on the occasion.
The Sheridan area has also been recognized as one of the country's top locales for outdoor recreational opportunities. The mountains abound with deer, elk, moose, bighorn sheep and the occasional black bear. The grasslands and hills east of town are noted for upland bird hunting. Pheasants, sharptails, doves, grouse and turkeys thrive, along with more deer and antelope. Waterfowl such as ducks and geese are plentiful as they migrate south in the late autumn and early winter.
The Big Horn River to the north and the Platte River to the south are two of the best fisheries in the country. High in the mountains, the North Fork of the Tongue River is a catch-and-release stream that attracts anglers from near and far. The Big Horn Mountains attract snowmobilers from all over the western United States. Cross country skiing, and the soon-to-be-reopened Antelope Butte Ski Resort continue to provide excellent family recreation activities during the winter months.
Wyoming has long been held to be the most tax-friendly state in the Union. Like other states with strong business tax climates, Wyoming benefits from the absence of an individual income tax. In fact, Wyoming is one of just two states where more than two-thirds of the total tax revenue comes from non-residents. The oil and gas industry provided $2.2 billion to state and local governments in 2012. Wyoming has neither a corporate income tax nor a gross receipts tax. In addition, its state sales tax rate of 4% is one of the lowest of any state. All of this coupled with no state inheritance tax had the Bloomberg Report calling the Cowboy State the most wealth-friendly state in the country.
Anyone looking to relocate to a state where your hard-earned retirement nest egg will go the furthest, and where the quality of life can heighten that total experience, should look at Sheridan, Wyoming and The Powder Horn, and come pay a visit.
We are proud of not only the surroundings and the friendly people that call this area home, but also the ability to sustain a lifestyle that is both healthy and rewarding for you and your loved ones.
If clean air, clear water, low humidity, sunny days, star-filled nights and lots of elbow room have any attraction to you and your family, come on by. The latch string is always out!
Sincerely,
Homer Scott